Arizona Developmental Disabilities Planning Council (ADDPC)
DDNN Summer 2018
The Arizona Developmental Disabilities Network partners, the Division of Developmental Disabilities and Raising Special Kids are working together to improve cultural and linguistic competence within the Arizona developmental disabilities (DD) system. This Arizona partnership received a five-year grant from Georgetown University's National Center for Cultural Competence with funding from the Administration on Intellectual and Developmental Disabilities to establish a Community of Practice on Cultural and Linguistic Competence in Developmental Disabilities (CoP-CLCDD) in our state. This grant is part of a national effort to improve systems of care for people with developmental disabilities, and Arizona is one of nine states and the District of Columbia participating in this effort.
This statewide community of practice is charged with driving system change that will result in a linguistically and culturally competent DD system. The Arizona CoP-CLCDD has developed a shared vision and implementation plan for the next five years. The vision is: A developmental disabilities system in Arizona that works in partnership with all diverse communities and embraces, respects, and seeks to understand the beliefs, interpersonal styles, attitudes, languages and behaviors of individuals with developmental disabilities and their families.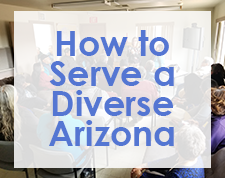 Over the past few months, each organization has filled out a baseline survey to gauge our current efforts. From that data, we are discovering our successes and challenges. We've also started an online resource page that will showcase tools, apps and tips on creating culturally and linguistically competent organizations. Please visit
https://addpc.az.gov/cultural-and-linguistic-competence
The AZ CoP-CLCDD leadership partners will be presenting about the initiative and ways for communities to be involved at the Institute for Human Development's 2018 Evidence for Success Conference in Scottsdale/Fountain Hills, AZ from July 8-10th. Stay tuned as we pull together our resources and strive to achieve more and better for the future of all Arizona residents with developmental disabilities.
The Arizona Developmental Disabilities Planning Council (ADDPC) is leading this effort.
For more information, please contact the ADDPC at 602.542.8970 | 877.665.3176 Toll Free